Posted on
June 26th, 2008
by loadedog
Frockanalia, Backyard Backanalia, Sat 21st Jun, 2007.
by Charlie
Well my my…. it"s amazing the things that can happen when you put on a dress…strange gestures…accentuated S"s…. the words "Sweety" and "Darling" instantly take up %50 of your vocabulary and you start using words like "ensemble" in order to describe an outfit.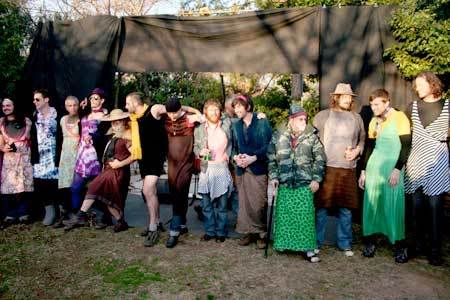 Last Saturday was indeed a Grande Affair at Loadedog Headquarters for the first winter backyard gig… Frockanalia!!! Many of the menfolk scared the punters at the North Ainslie Primary fete as they decided to frock up instead of paying the $5 penalty and it was quite a sight when they all lined up at the front of the stage for photo ops. Such a sight we had to attach a pic. I think you"ll find a clear winner in the purple ensemble.
There were some stella performances with Tabatha Omaji, Ashley Walsh, Cathy Petocz and the Glaciers springing out. The wine flowed, the food may or may not have done the same and once the official music was done with there was much singing around the campfire. To think the Gods almost ruined it with bad weather, then pulled glorious sun and blue skies out of the bag at the last minute.