Posted on
June 27th, 2008
by loadedog
20/6/08, Merry Muse
by Dan Watters
The White Eagle Polish Club was literally packed to the rafters in anticipation of Liz Frencham and Robbie Long"s dual CD launch with tables and chairs cramming all available spaces, including the raised stage at the side of the room.
Canberra"s rarely seen Rodeo Clowns opened the evening with songs off their 2007 EP Postcards from Iraq. Their bluegrass infused country was at its best in Monsters with four part harmonies, nimble banjo work from John Taylor and a fast paced mandolin solo by Dave O"Neil. Despite claiming they are rarely out and about, The Rodeo Clowns will grace the stage at Rose Cottage this Sunday and are well worth a look.
The Rodeo Clowns
Struggling with sound issues, an as-ever beaming Frencham began the set as more of a stand-up routine with Robbie Long also "getting a buzz" out of the tech issues. Puns aside the duo launched into Let it Out showcasing Frencham"s trademark double bass and warm jazz/cabaret sound. Long then demonstrated why he was recently crowned the Australian flatpick guitar champion with acoustic tune The Fishy song, aptly named by his daughter for its flowing, babbling melody and delicate plucking. Those too blind drunk on big Polish beers and vodka to see the stage would be forgiven for thinking there"s several guitarists on stage when Long alone is playing.
Frencham"s new album You and Me Vol.1 is a collection of live duets with no less than 15 guests, and as an added bonus for the Muse crowd, she brought a swag of them along for the performance.
First to join her on stage was Canberra local PJ Wolf on acoustic guitar playing his song Square One. Wolf"s soulful, rich vocals was a stand out of the evening.
If Liz wasn"t smiling hard enough to begin with the addition of her new fianc" Steve Vella brought an extra twinkle to her eye and warmth to her voice.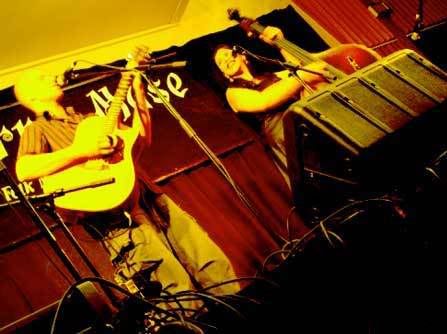 Liz Frencham is joined by fianc" Steve Vella
The next change of line-up saw Frencham, Long and Totally Gorgeous/ Lawnmowers violinist Andrew Clermont leading the crowd in a sing-a-long of Sailing Over. Never mind the song was too new for Frencham to remember the lyrics!
The display of rich local talent continued with Fred Smith the next guest on stage following a short break. Frencham and Smith traded verses on Four Strong Hands, a fine example of Smith"s penmanship and emotional song writing.
After several more songs with Brooke Schema, a rendition of Georgia on My Mind with Long on electric guitar and Claremont on violin had the crowd begging for more, which they followed up with an encore performance of the hidden track on Frencham"s new album, Rubber Ducky. Joined by Ross Waldron on guitar, and "The Garglettes" blowing bubbles through the audience, the night finished as it had started on a highly humorous note.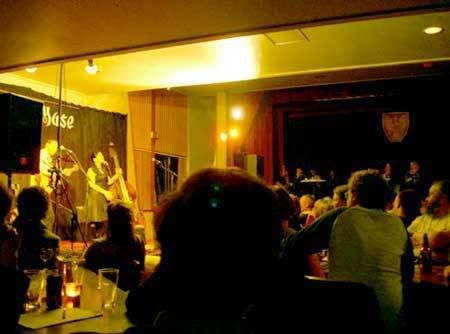 A full house at the Muse for Robbie Long and Liz Frencham
Spilling out into the crisp Canberra evening near on midnight, the overall feeling was one of privilege having been treated to over four hours of fine musicianship from a star-studded line-up. Frencham"s You & Me vol 1 and Long"s Snapshots are available now on-line.